Canadian Aquaculture Systems, Inc. (CAS)
is a professional firm providing design, development, productivity and competitiveness services predominantly within the aquaculture sector. Since 1984, CAS has offered a complete range of biological, technological, bio-engineering and business management services. We offer a solid understanding of aquaculture life support and recirculation systems, design and management, harvesting and processing systems for finfish and shellfish culture operations, fish health management planning, productivity analysis, strategic planning and business management processes. CAS also provides services to governments in relation to strategic policy, regulatory and program analysis.
Our core group of professionals has diverse and multi-disciplinary backgrounds with over 145 years of combined aquaculture experience. We offer team-based consulting to the aquaculture industry and industry associations, academic and research institutions, non-government organizations, First Nations (indigenous peoples) communities, governments and to other consulting firms domestically and internationally. Our practice is focused on helping our clients execute effective strategies to meet targeted objectives. Moreover, we recognize and respect that clients expect projects to be delivered on-time, on-budget and with no surprises.
We work closely with our clients to identify the fundamental issues to be addressed and to develop innovative solutions that strengthen their initiatives. If required, we are able to assist by bringing in additional expertise to facilitate implementation, including short-term management secondments.
Our portfolio of work includes provision of services in activity-based project management, key personnel mentoring, and the achievement of multi-million dollar financial targets. We have successfully facilitated effective strategic reviews and have managed projects from Needs Analysis and Diagnosis through to Planning and Implementation.
Business Needs Analysis and Diagnosis
Our practice focuses on understanding the critical issues first and then working with our clients to execute effective strategies to meet targeted objectives. By evaluating the overall quality and effectiveness of operations, we are able to identify means to enhance productivity and performance. We take pride in our ability to deliver thorough analyses in keeping with the expectations of our clientele. Moreover, we recognize and respect that clients expect projects to be delivered on-time, on-budget and with no surprises.
Using a variety of proven tools and techniques for conducting a comprehensive yet timely assessment, our analyses seek to identify the root cause(s) of issues and develop solutions that reflect each client's capacity for implementation. A principal tool for the investigative phase of our reviews is the "SWOT-Plus Analysis" which reveals the underlying causal factors that must be addressed to generate the intended results.
This technique facilitates development of a comprehensive understanding of the core issues in six functional areas of the enterprise (Finance, Human Resources, Operations, Marketing, Information Technology and Strategic Planning), leading to the development of options for potential go-forward strategies that are aligned with insights gained through the SWOT-plus process. Using a combination of horizontal and vertical causal analyses, we bore down to reveal the causality of fundamental issues, driving toward a prioritized summary of key factors and identifying specifically 'what needs to be addressed' to bring about meaningful implementation and measurable results.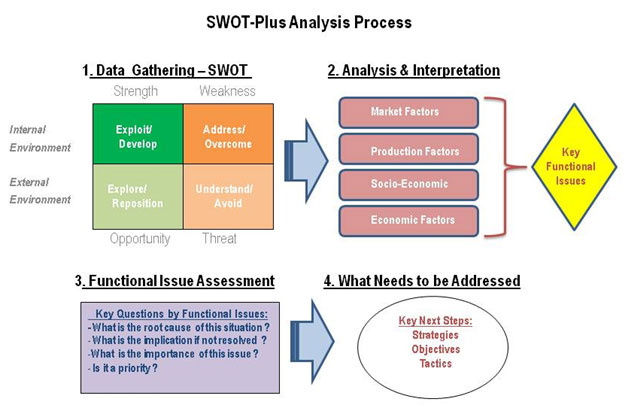 Used by permission from the Certified Management Consultants of Canada – www.cmc-canada.ca
Project Management
As accredited members of the Canadian Association of Management Consultants (CAMC - www.cmc-canada.ca) and the Project Management Institute (www.pmi.org), our focus is on delivering solutions that reflect each client's capacity for implementation – from small community organizations to large multi-dimensional enterprises. We have acted as Project Managers and Facilitators for initiatives ranging from complex multi-faceted construction initiatives to organizing strategic reviews, technical workshops and group orientations.
Our project management techniques draw from variety of proven tools including the use of a standard five-phase approach (Initiation, Diagnosis, Action Planning, Implementation and Closure). We have introduced project charters to client initiatives to outline the project scope and objectives, identify the main stakeholders, delineate roles and responsibilities, and define the authority of the project manager. The charter serves as a reference of authority for project implementation. It is considered an industry best practice and includes:
In-scope and out-of-scope items
High-level risk management plan
Communication plan
Target project benefits
High-level budget and spending authority